I feel honored to being asked to host the Blog Party today by a fellow blogger ,RJ Mama.She's the brain behind this weekly blog party and I personaly think that it is a brilliant idea. Not only it will help our blog to get more linky love but it will also help us, the bloggers in a personal level, in meeting more friends.
Anyway, enough with my lousy attempt to break the ice, that's another reason why I don't do a real world party. I'm not good at it, whenever I got invited, I usually end up in a corner and just enjoying myself watching people do crazy stuff.But this one is a party I think I can handle.
Here we go, I started blogging way back in 2002-2003. Around those times, blogging are very very simple. My blog was hosted by blogspot, the best platform for beginners. Back then, some blogger used to pay so their blog will be ads-free, but now,it's the other way around,we get paid,so our blogs have ads. :D. My blog usually consist of my senseless thoughts and ideas, a post of my favorite songs, favorite recipe, or whatever cute stuff I found online. Then I stopped blogging when my youngest was born in 2005 then I decided to make a comeback in 2007 when me and the boys went back to Manila for vacation. I feel bored and I thought maybe I can do blogging again.
I was very surprised how the blogosphere change in such a short span of time during my absence. Most of my BFF (Blogging Friend Forever :D ) are talking about blogging for money, then there's the meme all over, there's a "
blog party
" here and there among other things.That's when I decided to create my another first blog called
FickleMinded
and also accept my first paid posting job thru the referral of my long time online friend whom I meet thru a public forum.Why FickleMinded?It's a long story but if you are a woman,I guess you already know the answer. :D.Since then, I started or somewhat restarted my blogging life again and this time,I'm more serious than before, at least I think I am :D. This,I consider as my personal blog, most of the post, if not all, is all about Me,Myself and I :yes:
After another few months, I also decided to make a photoblog which I called
PixelMinded
this time.Like I said,memes are now very common and I love doing it. So I created this photoblog just for that purpose alone,plus I started enjoying photography
but the photograhpy doesn't seem to enjoy me
, especially when I bought my first
DSLR
back in 2009.This year,I also joined an all-year round meme called Project 365.You were about to post one picture a day,but the lazy me is now only on it's
42nd Project
:D. If you will see all my pictures, just remember, I only said,I like photography, it doesn't mean I'm good at it. :D
Also the same year, my parenting blog was created to documents my parenting journey with my two boys and I came up with the name,
SmartMommy
. That's the blog where I jot down my life as a parents, especially raising two boys, raised them with the combination of American and Filipino cultures. And no,I'm not that smart, but my boys are and they are trying to outsmart me from time to time but never succeeded anyway. :D It's a tough job but I coudn't have it the other way.:D

After being in a blogging world again for more than two years,I met and found more friend with common interest, to keep the friendship alive, I create and hosted a meme of my own. It's a weekly food meme called,
Food Trip Friday
, april of 2009, and no,I'm not a good cook, my cooking only taste better if you are starving to death, :D. For the first few weeks, there's only 10 of us,bloggers,who shared our love for food, after a year, the participants is now more than 30 and each week, we discover something new and feels like we travel the world,hence the title, Food Trip.:yes: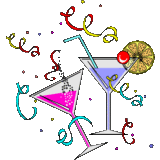 And the last but not the least, since talking err blogging is now
my favorite thing to do
and thought that those blogs are not enough to express everything I want to say,I created this blog last February.:yes: Just in case you are wondering what happen to my first blog ever, I don't know,I already forgot my logging info and I think blogspot delete it due to inactivity.
So,there you go, party's over people, move on with your life and I hope I didn't bored you to death reading my post. Let's drink to that!
-------------------------------------------------------------------------------------------------------------
Follow the links (at least 3) and leave your comments. Don't forget to leave your comment here also to let other attendees know that you're present. Visit other attendees and leave your mark on their blog, next time they will surely visit you too.